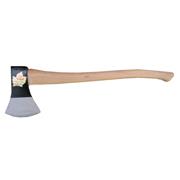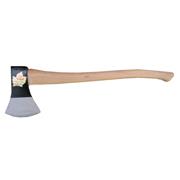 OX-HEAD
Ox-Head Axe 2-1/2 LB X 28" Wide Blade
Product Features
ILTIS "OX-HEAD" brand made in Germany. "Original" pattern-single bit-wide
blade. The blade, which is scientifically designed, extraordinarily thin and
almost parallel, reduces the weight but doubles the performance. Special
analaysis axe steel hardened to the eye by newly developed treatment,
guarantees longest durability and excellent cutting effect. The blade of
ILTIS axes, however, most elastic, reduces the danger of breaking
considerably compared to the so-called rigid axes. Easier renewal of the edge
due to the favourable cross-cut, based on the almost parallel blade.
Sharpening before lumbering is eliminated, because ILTIS axes are shipped
drawn ready for use.